Learn more about the team at Rain Nutrience in an interview with Katie
Interview with Katie, the Planning Manager for Nutraceuticals at Rain Nutrience
Katie is an important part of Rain Nutrience. As a Planning Manager for Nutraceuticals, she works to ensure that customer orders are produced and shipped on time. In this interview, she tells us a bit more about her work.
What is Your Role at Rain?
I'm the planning Manager for Nutraceuticals. My job is to ensure customer orders are produced and shipped in the time frames that we advise our customers. A typical day starts with a catch up with my production team leader for Nutraceuticals, making sure everything is running as planned and we have no issues that could cause the plan to slip. From there I move on to my daily reports that go to various areas of the business, answering queries from the Commercial team and talk to Purchasing about order changes. In the afternoons I review the plan and make changes if there are any needed, look at new jobs that can be posted and track where we are on our outputs for the day/week versus the plan.
How would you describe working at Rain?
Rain is an exciting place to work, like all manufacturing companies we have had some significant changes over the last 12 months, but it's the team that we have and are building that makes those challenges manageable.
What are your hobbies outside of work?
I like to read, go to the gym, watch rugby and spend time with family and friends.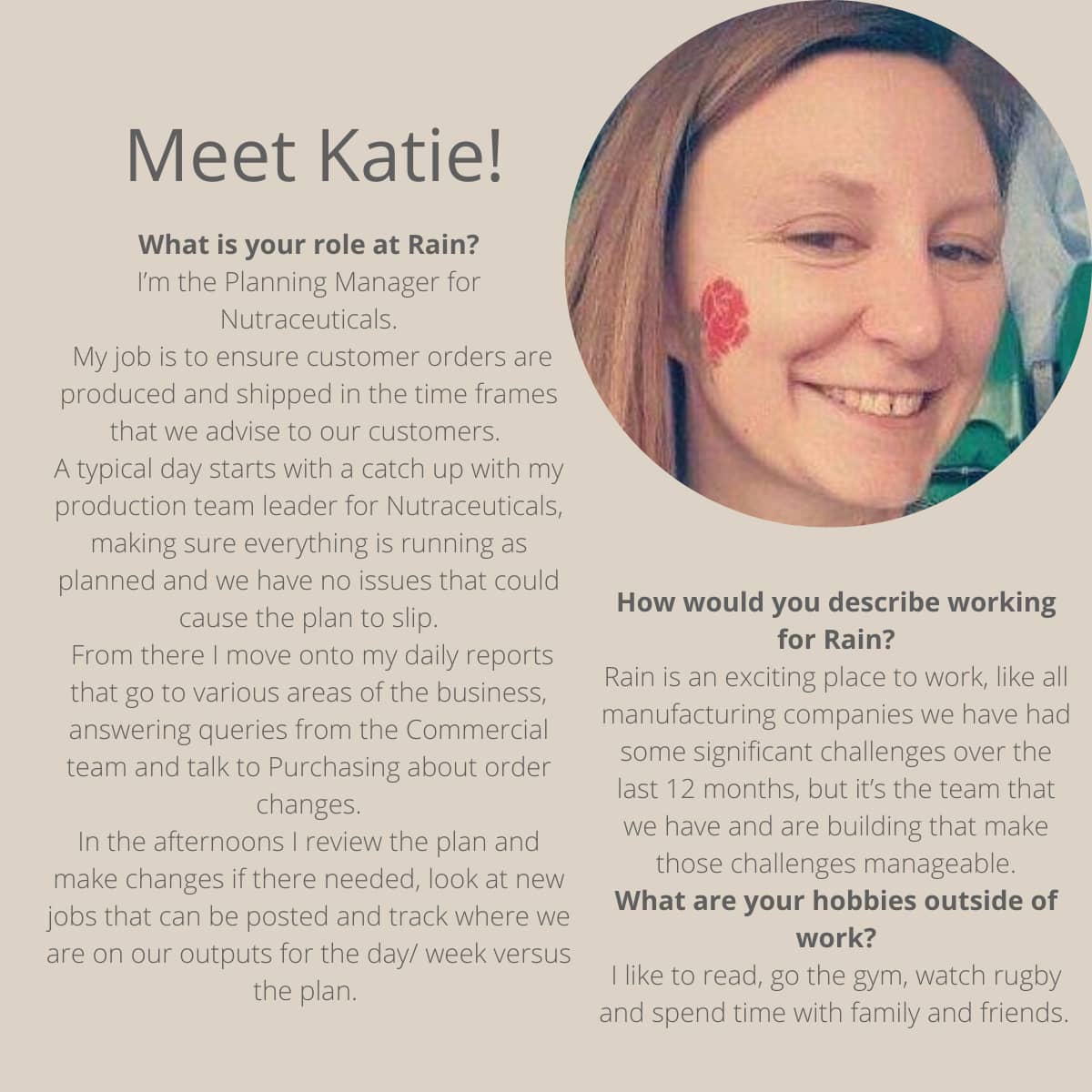 More about the Team at Rain Nutrience
We take great pride in our team and are one of the largest employers in the South West. We recruit between 30-40 new employees per year in line with our business growth. And we promote internal growth and development with our team. Our Quality Assurance manager initially started as a Quality Assistant. Our operations manager was brought in first as a production team leader. And our Head of Warehouse began as a Production Operative. All of these employees worked hard and progressed with us as the business grew over the last 5 years.