Learn more about the team at Rain Nutrience in an interview with Tony.
Interview with Tony, the Operations Manager at Rain Nutrience
Anthony Chatwin is an important part of Rain Nutrience. As an Operations Manager, he helps ensure that all aspects of Operations are managed and overseen correctly.
With overall responsibility for all aspects of manufacturing – Tony has been with Rain Nutrience since 2016 and joined the team with 25 years of experience in the Biopharmaceutical, Life science, Automotive, Food and Beverage sectors.
He is a qualified Kaizen Leader, a Lean Manufacturing Expert and Six Sigma Champion to Green Belt Level.
In this interview, he tells us a bit more about his work.
What is Your Role at Rain?
I am responsible for managing and overseeing all aspects of Operations across both Business Units. This includes strategic deployment, CI and the KPI dashboards within, manufacturing, engineering, procurement, scheduling, warehousing, recruitment, together with assistance for new product development and customer support including visits and covers 100+ staff.
What Are Some of Your Stand Out Achievements at Rain?
Being able to implement the Matcon system which allowed us to increase production without the additional resource overheads or factory space. This allowed us to run larger batches and multiple recipes in one day, we are now future-proofed to take on various new contracts. And I'm proud that as the Senior Operations Manager my facility gained BRC issue 8 AA graded accreditation.
What are your hobbies outside of work?
I enjoy going to gigs, football, and spending time with family.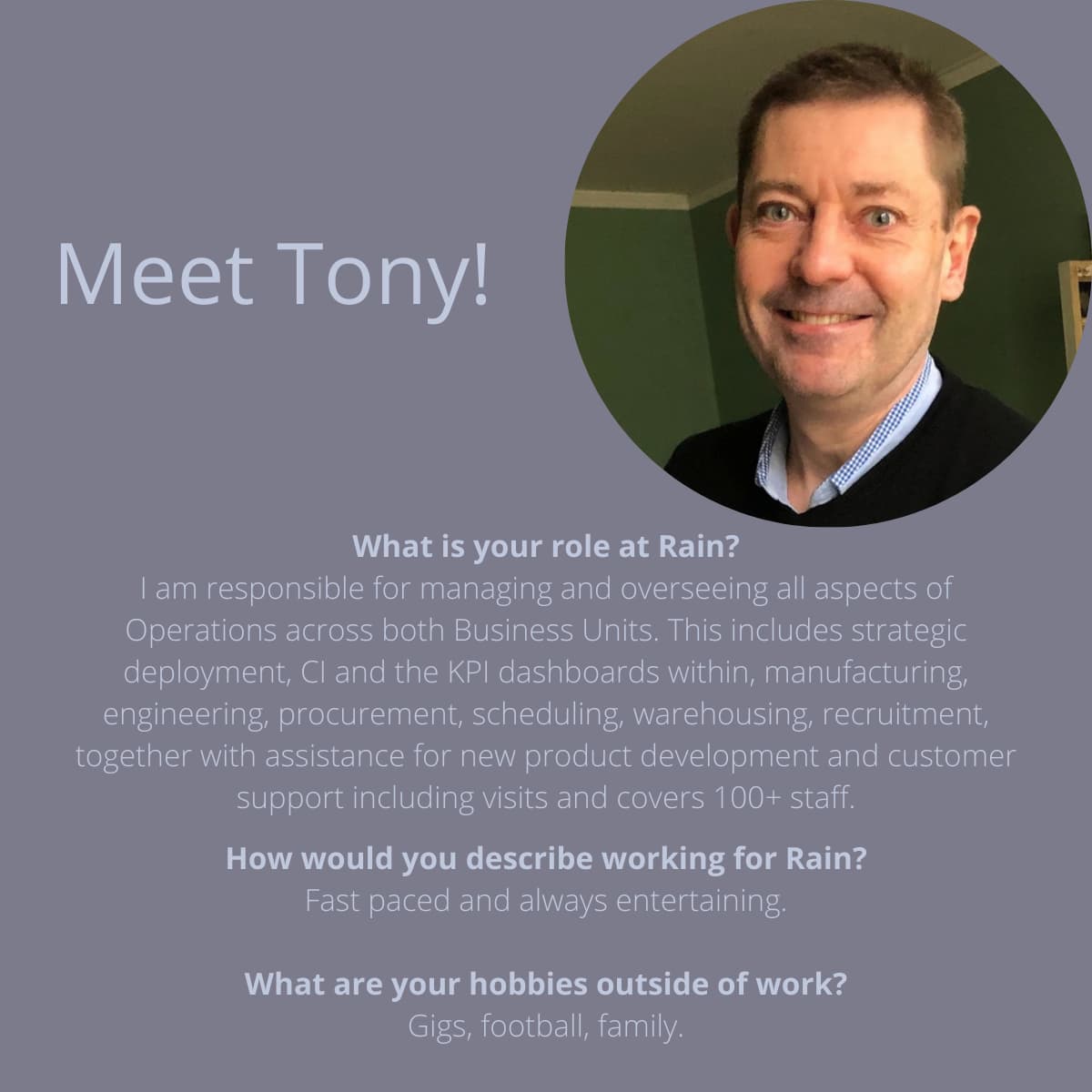 More about the Team at Rain Nutrience
We take great pride in our team and are one of the largest local employers. We to recruit new employees of between 30-40 each year in line with our business growth. And we promote internal growth and development with our employees. Our Quality Assurance manager initially started as a Quality Assistant. Our operations manager was brought in first as a production team leader. Also, our Head of Warehouse began as a Production Operative. All of these employees worked hard and progressed with us as the business grew over the last 5 years.