Learn more about the team at Rain Nutrience in an interview with Adan.
Interview with Adan the Quality and New Product Development Assistant at Rain Nutrience
Adan is an important part of Rain Nutrience. As a Quality and New Product Development Assistant, he creates and tests new formulations, advises on new products and monitors the production line. In this interview, he tells us a bit more about his work.
What is Your Role at Rain?
My role at Rain is defined as a Quality and New Product Development Assistant. Part of my job basically is: to help turn our clients' ideas into reality. How to create, test new formulations, advice on new products and monitor the development of the production line. The other large part of my day by day life, can be fixed like developing internal audits, monitoring external audits, and assisting in the analysis of final products to verify the quality of the products we are delivering to our customers.
How would you describe working at Rain?
In my case, I was very welcomed at the company and from day one, I could see the closeness in dealing with managers and mutual respect. This created a cascade effect in the organization that leverages the best products and improves customer interactions. And last, but not least, I want to register the importance the company places on employee development. Invest in talent and promote the best ones. This is one of the best features to stand out, because like me, I had growth within the company, due to this culture and I am so grateful.
What are your hobbies outside of work?
My hobbies are varied, but most of them are spending time with my family, travelling to new places, watching movies and series and currently, I dedicated myself a little more to kitesurfing and trekking.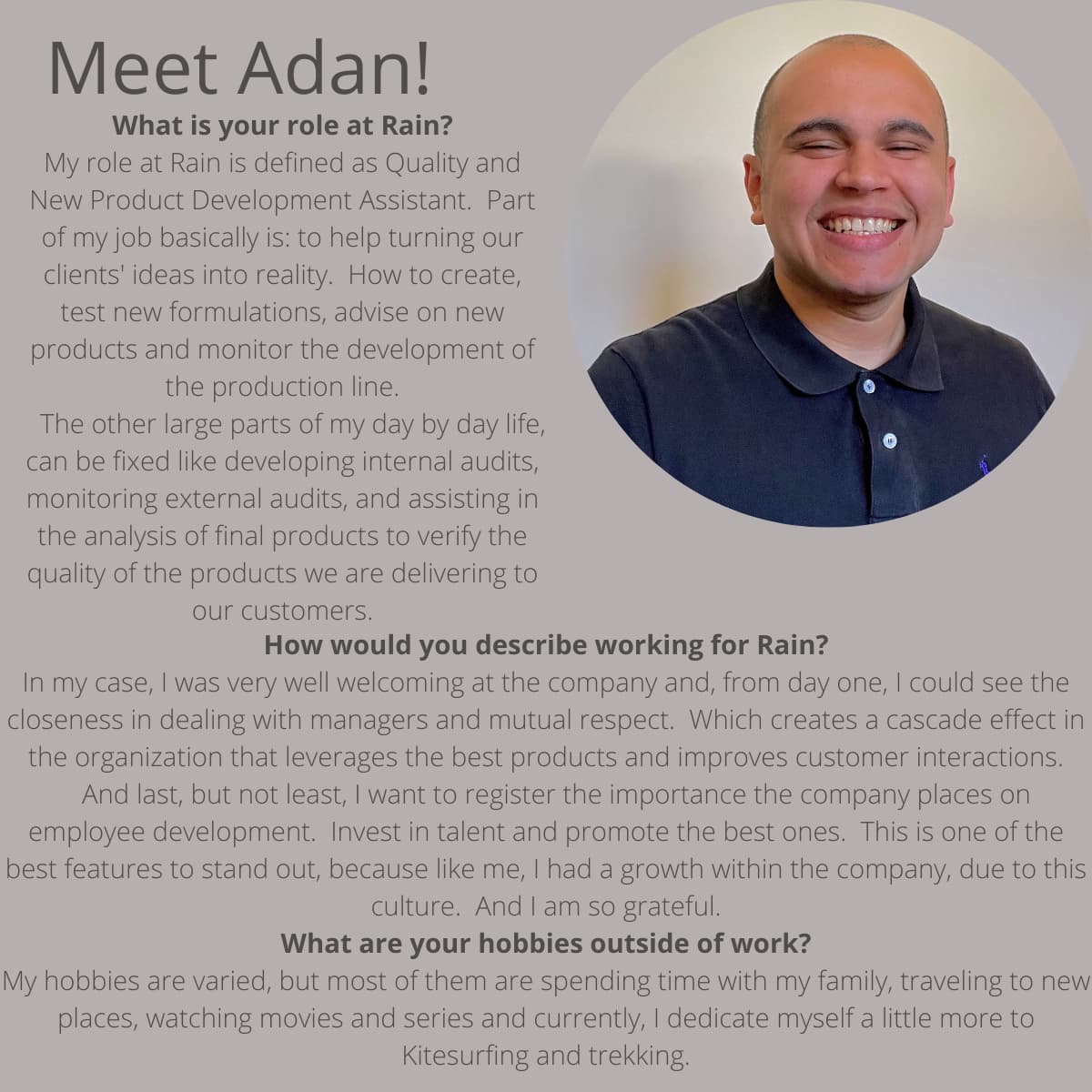 More about the Team at Rain Nutrience
We take great pride in our team and are one of the largest local employers. We to recruit new employees of between 30-40 each year in line with our business growth. And we promote internal growth and development with our employees. Our Quality Assurance manager initially started as a Quality Assistant. Our operations manager was brought in first as a production team leader. Also, our Head of Warehouse began as a Production Operative. All of these employees worked hard and progressed with us as the business grew over the last 5 years.